I'm so excited to show you guys my very first project! We've got lots more coming up, so stay tuned. But for now, here's one that I'm linking up to the
Shanty2Chic
sister's Rustoleum Revamp Party!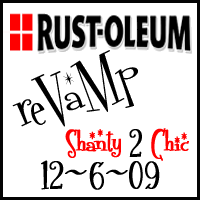 After
realizing how much television my children watch, and
reading (for school) about the correlation between increased TV time and decreased attention spans, I knew we needed some way to give (and take away) TV time. So here's my solution...
The kids start the day each with a tile on the chart
(1 tile=1 show). If they happen to wake up on the wrong side of the bed, the TV is taken away before they even get to eat their Wheaties. Then throughout the day, they can earn another TV show (or have it taken away as punishment)

Ok, I realize that there are enough tiles to amount to like 5 hrs of TV but they don't earn them all in one day (Don't worry Mom!) I made extra incase we lose some!

So here are the steps I used to create our
TV Tile Chart



First, I primed my clipboard with Rustoleum magnetic primer. I put on several coats (ahem....like 5!)

Next I traced the clip board and cut out my paper. (Note that I cut out a square in the bottom paper for the magnets so they would not have to go through 2 layers of paper).

Then I used Mod Podge to adhere my papers to my clip board. Before I put on the center square, I inked it with Tim Holtz Distress Ink. I sanded and inked around the rest of the board, after I had glued the rest of the pieces down.

After I rubbed out all the air bubbles, and let the paper dry, I put several coats of Mod Podge on top of the paper to seal it and keep it from tearing.

Then I embellished! (My favorite part!) For the clip, I made a little sign that said 'TV' using matching paper, stickers, and MORE MOD PODGE!

Then for the top ring I simply looped all different ribbons through the ring, and kept adding til it looked not-so-pathetic.

I debated on just buying plain ol magnets to stick on there, but WHERE'S THE FUN IN THAT!?

So I took some metal charms (a letter for each child's name) and painted and sanded them.

Then I Mod Podged them onto some brown cardstock and (you guessed it...) Mod Podged over them! All I had to do was slap on self-adhesive magnet strip, and we're in business!

What do you think?

Now if I could only make a "remote sharing time chart" for my husband!