I just can't help myself! This virtural design stuff is shweet! Its like shopping with other peoples monopoly money.
(I used to steal money when I played Monopoly...because I hate that game. But not as much as I hate losing.)
Here's another virtual design consultation for my college roomie, Joanna. aka...Helpy Helperton
(a bajillion points if you can name the movie Helpy Helperton came from!)
move your mouse on and off the photo to see the makeover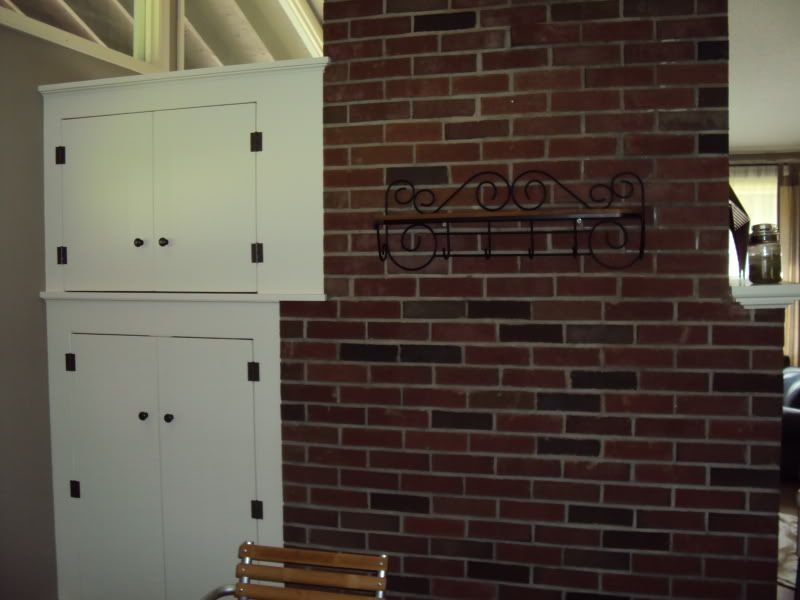 By painting the brick, the back of the fireplace is no longer the focal point of the room.
Slipcovers
over parsons chairs from Pier1 give Jo the pop of color she is looking for while having the option to change her style (and wash them after sweet Lily eats her PB&J's on them!)
The
table
was also from Pier1 but could be an easy make over from a Craigslist find to keep the budget happy.
Another great DIY project is to cover over the mantle (see far right of photo). By using reclaimed wood to make a box to slide over the mantle, a semi permanent and minimal cost change would make the mantle more substantial in the face of the humungo fireplace.
The "eat" sign is an adorable (and easy DIY) project. This particular one I found on
etsy
. (A fantastic shopping place for all you crafty lovers but not do-ers!)
The pendant light in linen is something I'm currently crushing on. As well as the globe, vintage books (both on the mantle) and the old crate housing succulents (top of the cabinets).
Oh and the cabinets? Great for storage but by either painting the hinges white or changing them to the inside the door kind, they would lose their prominence.
Also those
blue milk glass knobs
on the cabinet? An unexpected way to incorporate the blue Jo was looking for!
I may have to get some of those knobs for myself. With real money, not my stolen monopoly loot!